Tools for sidetracking. Fishing, milling and cleaning equipment. Tools for coiled tubing units. 
"BITTEKHNIKA" LLC was founded in 1996. Through all these years of successful experience we have developed a sustainable manufacturing system of oilfield equipment. 
Application

The Hydraulic Scraper is used to clean inner walls of casing from burrs, rust, cement, paraffin deposits and other deposits in particular place.

Design

The Scraper consists of body, blade, piston, spring, cup, screw, split ring, cup.
Solid tubular scraper body at upper and lower ends has connecting box and nipple threads. Sleeve for fluid flow regulation is screwed into lower part of body. Longitudinal grooves on body house die type blades (with possibility of radial movement) with wear-resistant hardened surface of cutting edges. Pistons (three pistons on each blade) move in cups under pressure of drilling fluid, this movement presses blades to the surface of cleaned pipe.
Images and Dimensions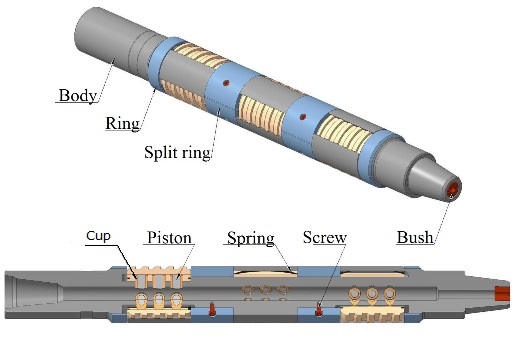 You can specify the size of an item on the checkout page.
Add to cart