Tools for sidetracking. Fishing, milling and cleaning equipment. Tools for coiled tubing units. 
"BITTEKHNIKA" LLC was founded in 1996. Through all these years of successful experience we have developed a sustainable manufacturing system of oilfield equipment. 
0
Borehole Fishing Magnet MIS
Application

The Borehole Fishing Magnet MIS is used to remove different pieces having ferromagnetic attraction from the well.
The Borehole Fishing Magnet can be used:
- while cutting the "window", drilling-out packers to magnetize metal objects;
- during washover to clean bottom hole from metal objects;
- to remove metal objects from horizontal well;
- to remove debris after cutting and milling when flow speed in annular space is poor
and when down hole fluid has low capacity for cutting transport.

Design

The Borehole Fishing Magnet has cylindrical body with central watercourse for drilling fluid. There are connection threads of relevant size on both ends of the tool. There are magnet systems, divided by grooves, along the length and diameter of the tool. Magnet systems can be changed if necessary. 

Images and Dimensions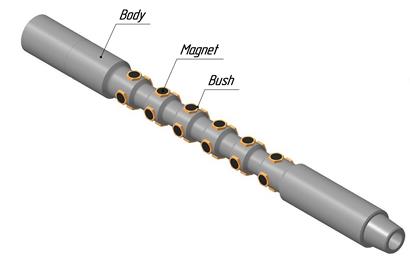 You can specify the size of an item on the checkout page.
Add to cart