Tools for sidetracking. Fishing, milling and cleaning equipment. Tools for coiled tubing units. 
"BITTEKHNIKA" LLC was founded in 1996. Through all these years of successful experience we have developed a sustainable manufacturing system of oilfield equipment. 
0
Cemented Bottomhole Mill FZ-Ts
Application

The Cemented Bottomhole Mill FZ-Ts is designed to destruct cement stones over all section of casing hole, drill out sand plugs, equip casing string and to mill metal objects at bottomhole.

Design

The Cemented Bottomhole Mill consists of body and dressing with tungsten-carbide and carbide inserts.
The lateral surface of mill is strengthened with tungsten-carbide teeth that guarantee high wear resistance.
There is connecting thread at the upper part of body, ports and grooves for effective cooling and intensive washing are placed at the bottom part.


Images and Dimensions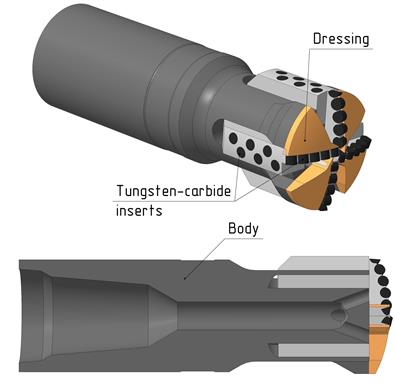 You can specify the size of an item on the checkout page.
Add to cart