Tools for sidetracking. Fishing, milling and cleaning equipment. Tools for coiled tubing units. 
"BITTEKHNIKA" LLC was founded in 1996. Through all these years of successful experience we have developed a sustainable manufacturing system of oilfield equipment. 
0
Junk Mill with Combined Dressing FT-K
Application

The Junk Mill with Combined Dressing type FT-K is used to drill out metal objects, cement stone during repair and recovery works in the well – individually with washover through slots in mill's body.

Design

The Mill has body made of high-strength alloy steel and cutting and grinding dressing with crushed tungsten carbide inserted into matrix of nickel-containing brass and hard-alloy inserts on face and cylindrical parts of the mill. There is a connecting thread at the upper part of body, ports and grooves for effective cooling and intensive washing to carry out swarf are placed at the bottom and side surface. The Mill can be produced in left/right configuration.

Images and Dimensions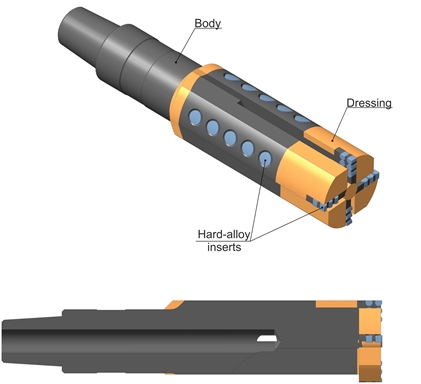 You can specify the size of an item on the checkout page.
Add to cart