Tools for sidetracking. Fishing, milling and cleaning equipment. Tools for coiled tubing units. 
"BITTEKHNIKA" LLC was founded in 1996. Through all these years of successful experience we have developed a sustainable manufacturing system of oilfield equipment. 
0
Hydraulic Pipe Puncher DGT-1
Application

The Hydraulic Pipe Puncher DGT-1 is used to punch hole to drain fluid from tubing during repair and emergency works in the well.

Design

The Hydraulic Pipe Puncher consists of choke, body 1, rod bush, body 2, rod, thrust bush, body3, clutch, isolation joint, puncher, thread bush, ring, valve bush, valve, cup, spring, tail piece, rod hinge pin, set of sealing rings and valve hinge pin. 

Images and Dimensions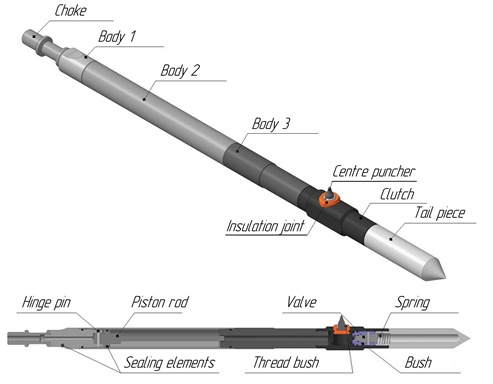 You can specify the size of an item on the checkout page.
Add to cart