Tools for sidetracking. Fishing, milling and cleaning equipment. Tools for coiled tubing units. 
"BITTEKHNIKA" LLC was founded in 1996. Through all these years of successful experience we have developed a sustainable manufacturing system of oilfield equipment. 
Application 
The Washout nozzle NR is used for borehole washing, proppant cleanout after hydraulic fracturing treatment as well as for washing-out sand and hydrate-wax plugs in tubing strings.
Design 
The Washout nozzle has body made of high-strength alloy steel. There is a box connecting thread at the upper part. The nozzle has a watercourse in order to provide passage of washing fluid. 
The principle of operation is based on creation of directed jet of fluid emerging from the pen apertures at high speed and under high pressure, capable of breaking the oncoming obstacle surface.
Images and Dimensions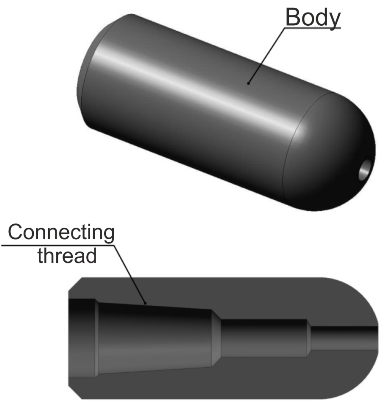 You can specify the size of an item on the checkout page.
Add to cart